Linda H. Kolyn - Personal & Professional Biography
Linda H. Kolyn is a Toronto based Ontario barrister, with a varied and impressive legal career, both behind her, and in front of her.
BIOGRAPHY
Born in Toronto, and raised in Hagersville [current site of the Haldimand County Hospital and locale of the famous tire fire] until her family's return to Toronto when Linda was six, Linda is equally comfortable in world class cities, smaller communities, and in rural settings.
Linda is the eldest of the three children of Albert [former Member of the Thirty Second Provincial Parliament for Lakeshore from 1981-1985, business visionary and former Member of the Immigration and Refugee Appeal Board ] and Stephanie. Albert, and Linda's brother, initiated and maintained the Attic and the Bev, until the Bev recently changed hands. Linda's sister is a surgeon. Linda's nieces and nephews range in age from six to nineteen, and reflect the family's varied interests: music; dance; travel; languages; entrepreneurship; athletics; community service; charity work and the arts.
CAREER DECISIONS
Reflecting back, Linda will tell you that becoming a barrister seemed like a natural result of her standing up for the underdog in her public and middle school days.
In high school, Linda chose law as a career path over medicine in Grade 10 biology class, when Linda was first exposed to dissection of animals and formaldehyde.
But that day when they televised Dr. Christian Barnard doing the first open heart surgery on TV, Linda's career decision was sealed, she says.
"Dad was watching Barnard's open heart surgery on TV and called us to come and watch. I was in my study, reading Aristotle's Nichomachean Ethics for C. B. MacPherson's political philosophy class at the University of Toronto. I sat and watched for a polite period of time. But I was not watching the procedure like Dad and Donna were. The procedure was far too graphic and bloody for me."
When Linda had applied to first year University, Linda thought that she was likely heading to law school. But, as she returned to her study after watching open heart surgery, Linda knew that she was heading to law school.
LAW SCHOOL
Celebrating her 25th year of graduation from the University of Windsor law school in 2004, Linda's role as a legal visionary was evident even during law school.
As Director of the Student Legal Aid Society Linda encouraged law school volunteers to communicate openly and honestly with clients, in clear and understandable language, and to keep clients advised of the progress of their cases.
Linda also encouraged the volunteers she supervised and mentored to be compassionate with clients, as well as being detailed and articulate in executing the client's legal work.
In her third year of law school, Linda appeared before Mr. Justice Horace Krever at the Royal Commission Inquiry into Legal Aid Funding. She was one of the two students who participated in this landmark inquiry.
The submission into Legal Clinic Funding that Linda participated in resulted in sweeping and positive changes to Legal Aid Clinic Funding , after the delivery of Justice Krever's Royal Commission Report.
During her articles, one of her principals, Donald F. Sim, Q.C. predicted that Linda was destined to do great things in law.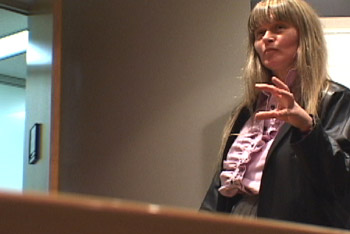 CLIENT SERVICE PHILOSOPHY
Linda's philosophy is to look past the client to see the person requiring resolution of their legal problem. Linda developed her client service philosophy while volunteering at the Student Legal Aid Society. Linda has continued to hone and refine her client service philosophy.
Linda's belief is that if she can educate you as to how the law deals with your particular situation, you are empowered. You have also achieved a positive result in what is often the negative adversarial process.
So, for Linda's clients, the litigation process is explained. Clients are empowered by being kept fully informed of the status of their matter. Clients are referred to text books and articles where appropriate.
Clients participate in the preparation of negotiations, court and mediation documents. Clients emerge from the litigation process, more knowledgeable than when they encountered their legal difficulty.
Linda is committed to resolving your legal problem through a negotiated settlement favourable to you, if possible.
EDUCATION
Certificate, Vegetarian Cuisine Instructors Certification, (2004)
Call to Bar, Law Society of Upper Canada (1981)
Registered Canadian Trade Mark Agent (1981-1984)
LL.B., University of Windsor (1976-1979)
History and Political Philosophy, Victoria College, University of Toronto (1974-1976)
Piano and music theory teaching fellowship, Royal Conservatory of Music, Toronto, Ontario (1974-1976)
Silverthorn Collegiate, Etobicoke, Ontario (Graduation) (1974), Ontario Scholar, university entrance scholarship offeree
SPEAKER
"Wills and Powers of Attorney", Brampton SDA Church, Spring 2003
"Wills and Powers of Attorney" Canada Colours and Chemicals, Brampton Ontario, Winter 2001
"Wills and Powers of Attorney" Fifty Plus club, Kingsview Village SDA Church, Fall 2000
"Powers of Attorney", June, 1995, Toronto, U.W.O. (Toronto) Branch
"Elections Law for Scrutineers" various federal and provincial election campaigns
"Esthetics and the Law" AMDEC's Seminar 92, September, 1992
"Canadian Immigration Law", a comparative Immigration Panel, Joint Convention of the Austrian Bar Association, the Ukrainian Canadian Advocates Society and the Ukrainian American Bar Association held in Vienna, Austria, June 30-July 1, 1988
LECTURER
Lecturer "Advocacy" 33rd Bar Admission Course, Section III, The Law Society of Upper Canada, Osgoode Hall, Toronto, Ontario
Lecturer "Civil Procedure", "Criminal Procedure", Humber College, Main Campus, Fall-Winter, 1992
APPOINTMENTS
Advisory Board Chairman, Insurance Advisory Board, May 1989-1990 (first woman appointed to the IAB and first woman chair)
PUBLICATIONS
"The Power of Personal Penmanship" The Big Book, 2003
"New Home Construction" why you need a lawyer" Toronto Business Times, June 2002
"Domestic Contracts-What Are They? / Should I Have One?", Fall 1997, for Internet Web Page Mount #2, and October 2002
"Powers of Attorney - Questions and Answers" Spring 1995, Internet Web Page, Mount #1, updated October 2002
"Practice Philosophy of the Law Offices of Linda H. Kolyn" Spring 1995, Internet Web Page, Mount #1, updated as Practice Highlights
"Lawsuits" Esthetics, the Magazine, Summer 1993, vol. 3, No. 4
"Esthetics and the Law" Esthetics, the Magazine, Fall 1992, vol. 3, no. 1
"Jazzing It Up in New Orleans" Toronto Hot Spots, Winter 1990, vol. 2, no. 3
MEMBERSHIPS
• Law Society of Upper Canada
• Canadian Bar Association (Ontario) (past)
• Toronto Lawyers Association
• Peel County Law Association (past)
• Canadian Free Wills Network (since 2015)
• Christian Legal Fellowship
• Business Network International (founding President, West End Business Builders, Most Valuable Chapter Member Award 2002, 2003)
• Kingsview Village Church
CLIENT EDUCATION
The Do You Know publication series: Employment Law; Employee Perspective and Employer Perspective; Divorce and Family Law; Wills and Powers of Attorney; Real Estate - the Better Way; Business Law; Civil Litigation.
PERSONAL
Linda takes travel and tennis pictures with a Nikon F60 and hopes to have her website photo gallery available in the near future.
Linda wore Columbia, Mountain Co-op and Kodiak gear in the Chilean fiords and while trekking Antarctica during her four and a half month, 7 Continents, 7 Oceans, Millennium around-the-world cruise. "This gear comes in handy winter mornings when feeding the homeless", says Linda.
COMMUNITY ACTIVITIES
Feeding the homeless
Religious liberties
Legal counsel, various boards and charities
Nursing Home visitation programme
Vegetarian Cooking Schools
INTERESTS
Tennis
Spinning
Travel
Gardening
Converting family, favourite and ethnic recipes into balanced herbivore {vegan} recipes
Classical music
Reading
Walking